Under the High Patronage
of Mr Emmanuel MACRON,
President of the French Republic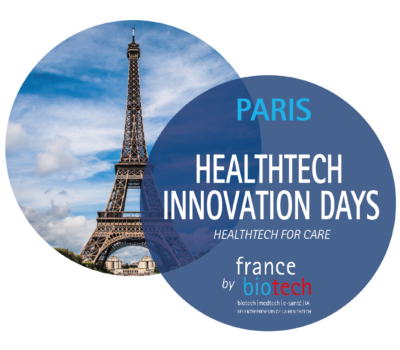 In person at The Peninsula Paris 
and in virtual
The Peninsula Paris, Avenue des Portugais, 75116 Paris 

0
International actors in HealthTech Innovation
0
Conferences and expert panel discussions on new trends in research & development and growth improvement
Emmanuel Macron Grand Opening
Thierry Breton Grand Opening
The HealthTech Innovation Days drive and foster collaborations within the European healthcare ecosystem.
The HealthTech Innovation Days drive and foster collaborations within the European healthcare ecosystem.
This event features conferences and private meetings between innovative European Biotech, Medtech and Digital health companies, pharmaceutical companies, life sciences specialized investors, healthcare experts, KOLs and institutional representatives.
The HTID® demonstrates that access to innovative care for all depends on the right funding and partnership in-between actors in health and finance.
This second edition hold on October 5th & 6th 2020 held by HealthTech For Care, an endowment fund launched by France Biotech, and co-organised with EIT Health, will accelerate patient access to healthcare solutions and contribute to building a stronger ecosystem.
Be part of the European investment hub supporting European HealthTech companies development. Accelerate innovation by setting a privilege place between C-level executives from the most European innovative companies in HealthTech, worldwide investors, pharmaceutical companies, KOLs, experts and institutional representatives.
France is home to the largest number of life sciences start-ups in Europe. This fast-moving industry is facing disruptive innovations, which generate myriad complex legal issues, and we are glad as an international law firm to work alongside France Biotech to support businesses in the sector.
Managing partner of Dechert's Paris office
It was great to attend and support HTID's first edition. As the only American pharma company partner, this event was the opportunity for us to formalize our desire to invest in innovation in France and increase our synergies with many start-ups. (...) France is definitely a center of excellence in e-health, artificial intelligence and big data but also in biotech start-ups. We hope to be there next year with possible new partners and wish to be even more involved in the French innovation ecosystem.
Chairman of Amgen France
We are delighted to have participated to this 1st edition of the HTID. As a Belgian company, we can only applaud the support given by the French government to the European health ecosystem. In addition to bringing together the best companies in the sector and specialized investors, this event brings high visibility on a sector creating direct and indirect qualified jobs. Gathering all actors in this value chain can only be virtuous, allowing academic research to find an industrial outlet.
CEO of Celyad
Targeted European Innovative Companies' Criteria
Open to private and listed companies
Biotech
At least on-going Phase 1, financement available for Phase 2
Medtech
CE or FDA filed (PMA, DeNovo, 510k, pre-subs) product
Innovative Med activities
Innovative services and functionalities under test by HealthTech partners
Digital Health
Services or functionalities in development with at least 1 fund raising